The above is very attractive, but it doesn't make it very easy to compare altitudes. The bar chart below ditches the time axis to make this a bit easier.Each vertical jump represents a time where I ascended higher than I had previously been on that trip, ignoring times when I stayed still or descended.Bolivia starts at 2,810 m because I spent weeks in Sucre, so that almost became my 'sea level'.
Most of the big jumps are sensibly below 4,000 m, where altitude effects are generally less [citation needed]. As you can see, the single biggest jump was in California, where, a day after exploring Death Valley (-86 m), we ascended 3,020 vertical metres (some by car) to Bishop Pass (3,649 m) and slept in the snow at pretty much that height.
Another big jump was in Kyrgyzstan. After a 35 hour flight and one night's sleep in Bishkek, we ascended 2,500 metres to our camp site. Although Huayna Potosí inBolivia is still the highest elevation I've reached, I never ascended more than 1,000 in a single day, and my baseline was already extremely high. Result – I felt great, even at 6,088 metres above sea level!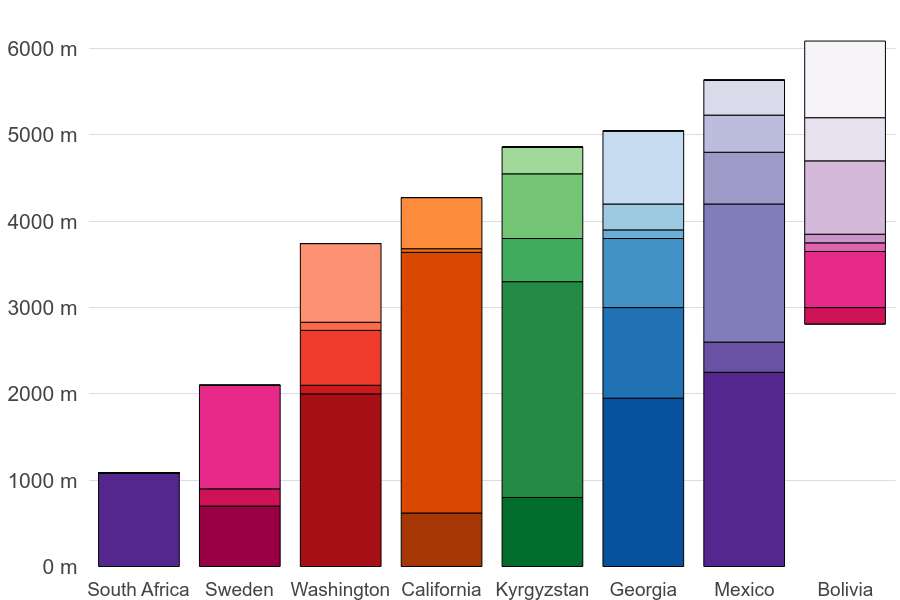 Note that because this graph has no temporal information, it masks how quickly these pushes happened. So although Mexico and Kyrgyzstan look quite similar, in reality we spent several rest days at altitude in Kyrgyzstan before daring to above 4,800 metres, whereas in Mexico we rushed straight at it without a moment's pause.
What both of these charts lose is technical difficulty: Korona is the only mountain that required steep ice climbing near the summit – not easy at around 4,800 metres!